I've made versions of this over the years and it's one of those things you basically can't f*ck up. Much the same as my no-fail muffin recipe, you can use this and change it up with whatever ingredients you have on hand, or whatever tickles your fancy.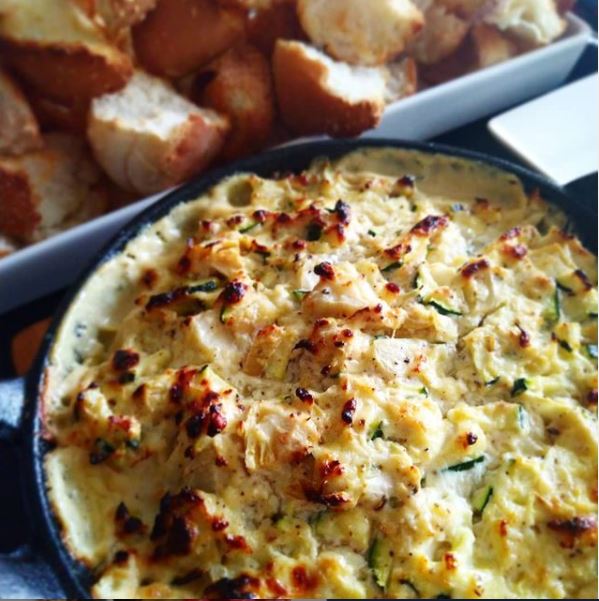 You'll need:
Cast iron pan (I have a medium-sized dish with a wooden trivet I use for this and shakshuka dishes – seriously get yourself some cast iron and it will last a lifetime)
Onion (as finely chopped as you can get it, or stick it in a blender)
Fresh garlic (use more than you think you'll need, don't be stingy with this)
Vegetables – I used spinach, portobello mushrooms and broccoli. (Chopped up roughly, into pieces about the size of your thumbnail)
250g cream cheese (leave it out so it softens a little, otherwise it won't combine with the other ingredients)
125g feta (you can go wild and use the lot, but you don't need it, I'm saving the other half for shakshuka/ baked eggs for Sunday brunch)
50g finely grated fresh parmesan (for the love of God, only use fresh, if you have that fake stuff in your house I want you to throw it in the bin now, that stuff isn't even food)
Fresh lemon – you just need a small lemon wedge for some fresh juice before you serve the dip, the citrus cuts through the richness of the cheese and lifts the flavour, it's a small thing but important.

Combine ingredients, pop in your cast iron skillet, into the oven on high for about 20 mins, take it out and stir part way through.

Best served with lightly toasted baguette or your fav bread for dipping. Don't feel you need to cut the baguette – it's more fun to rip pieces off and dip in…

I use little square plates when I make dishes like this, otherwise it can get pretty messy.

A note on veggies: you can stick everything in a blender if you like, it's faster for sure. Ive made this both ways, but prefer the look and texture of roughly cut veggies in this dip.